Achieve Your Dream of Playing at the Next Level!
$50 off registration fee for Junior Golf Hub Premium Members
Junior Golf Hub's College Prep Series
Junior Golf Hub's College Prep Series, hosted by The Golf Performance Center, is the Northeast's premier event for college-bound golfers and their parents. The College Prep Series features top PGA professionals and elite college golf coaches in a multi-day, immersive session designed with one purpose in mind: helping aspiring junior golfers achieve their dreams of playing at the next level.
Hosted by The Golf Performance Center in Ridgefield, CT, the College Prep Series will provide answers to pressing questions including:
Is my game ready for college golf?
What are the weak links that are holding me back from realizing my potential?
What are college coaches looking for?
How can I get recognized?
How does the recruiting process work?
What is life like as a college golfer?
Junior players at the College Prep Series will have the opportunity to undergo a Player Development Index (PDI) Assessment conducted by elite PGA and TPI-certified performance coaches. The PDI Assessment takes a deep, objective look at key skill areas including putting, chipping, bunker play, shot making, mental proficiency and physical skills, and precisely identifies areas that need improvement.
The assessment will result in an Index (PDI), giving players a number to quantify the state of their game and the ability to track progress toward their goals.
Hard data only, no guess work!
Players and parents will also participate in detailed, guided sessions explaining the college golf recruiting process and featuring head coaches at top college golf programs.
Players and parents will leave with a detailed report covering the weaknesses that may be holding them back from college golf and with a thorough understanding of the recruiting process.
Get ready for the Northeast's premier golf event!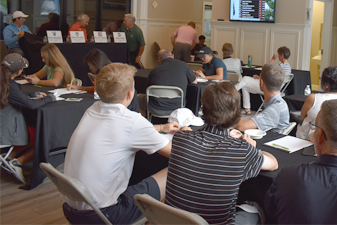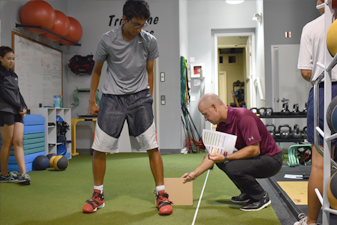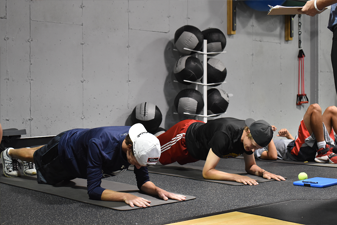 Space is limited to the first 16 athletes.
Roger Knick – Founder, Junior Golf Hub, The Golf Performance Center, Ethan Allen Prep
College coach panel participants to be announced soon!
4:30pm – 4:45pmDoors Open/Registration for College Prep Series
5:00pm – 6:00pmCollege Prep Series Introduction/Event Overview
6:00pm-7:00pmWelcome to The Golf Performance Center/Tour of Facility
8:45amGo to assigned station for PDS Testing (Golf)
9:00am-12:15pmMorning Session – PDS Testing
12:30pm-1:00pm Lunch
1:15pm- 2:30pmCoach Panel (parents and golfers)
3:00pm-5:30pmAfternoon Session – PDS Testing
9:00am-11:15amJunior Golf Hub Overview and Top Tips on the College Golf Recruiting Process, Former Player Panel
11:30am-1:15pm GPC National Challenge/Refreshments & Snacks
1:30pm-3:00pm Awards/PDS Results Overview and Breakdown/Event Recap
About the Player Development Index (PDI)
The Player Development Index is an objective measurement of an athlete's golf skills and physical performance. Through the PDI, Junior Golf Hub has developed a baseline to help golfers identify where they are in their golf journey. The PDI is designed to help all golfers reach their goals, whether it's to play college golf or to simply improve and grow their game.
The Three Elements Of The Player Development Index
When calculated, the Player Development Index is established out of 100. Through 20+ years of development, we have determined that a player scoring a 70 or above has what it takes to play golf in college at some level.
Conducted at College Prep Series!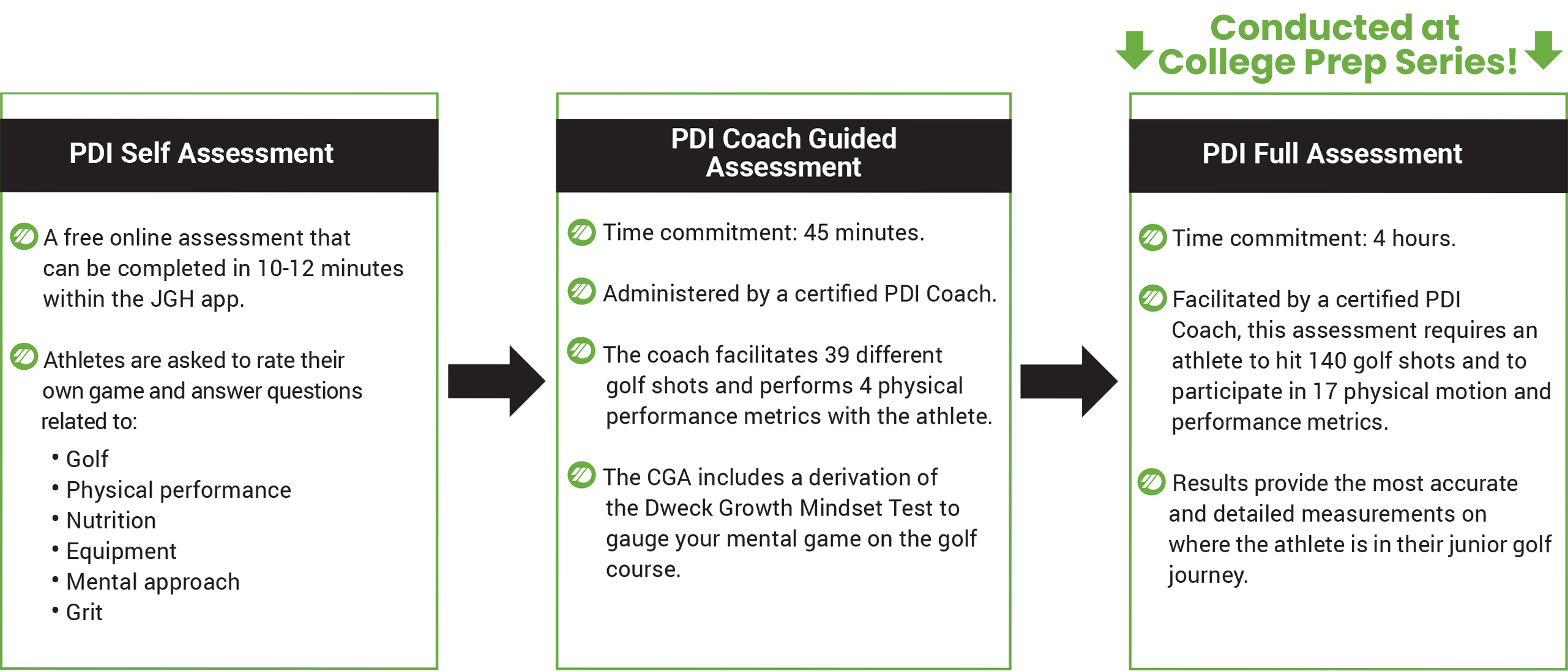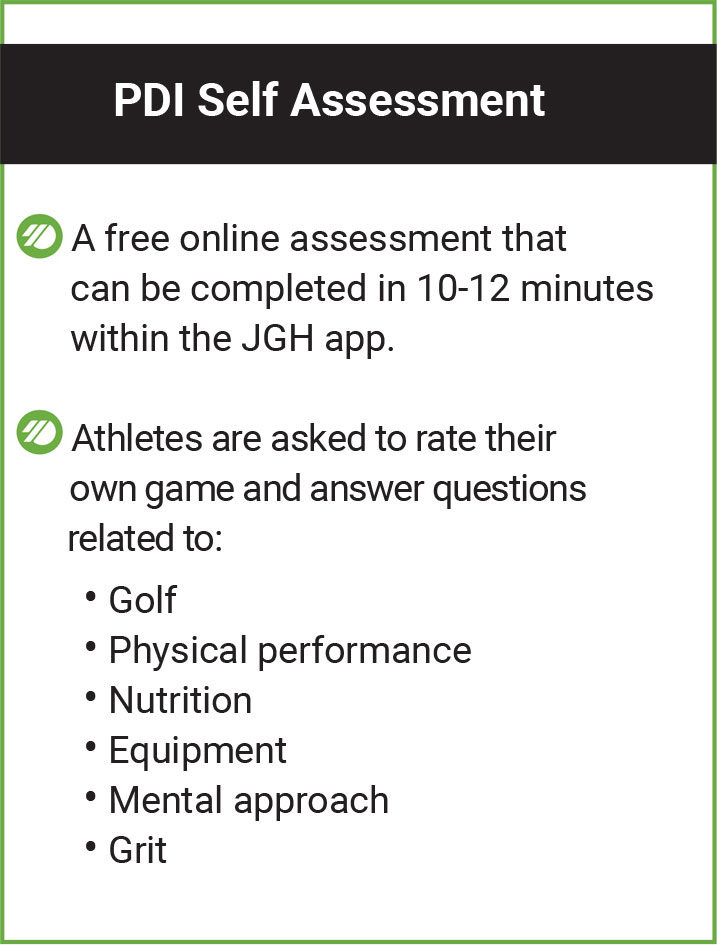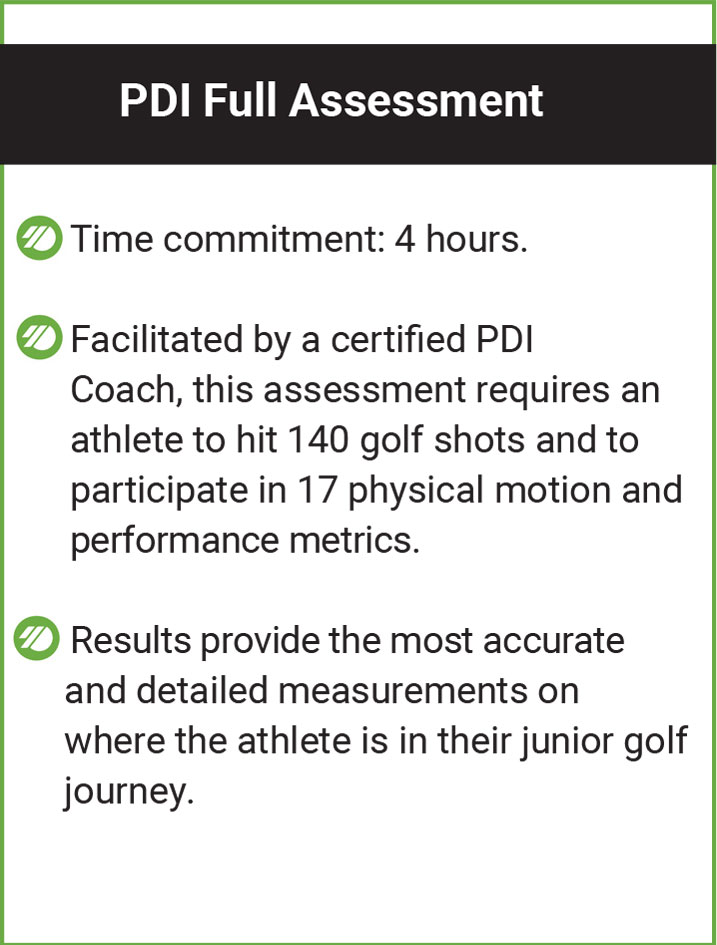 The Golf Performance Center
The Golf Performance Center integrates state of the art training facilities and expert coaching to help athletes reach their goals. Beginning with the unique "5 Elements of Success" evaluation, the GPC delivers customized golf coaching designed to provide aspiring athletes with improvement strategies built for long-term success. The GPC's goal is to provide valued instruction, guidance and the necessary facilities to develop junior athletes, both physically and mentally, to successfully navigate challenges on the journey to competitive golf. Junior Golf Hub is an online community that was founded to help players and parents navigate the journey to college golf while helping coaches find top talent. Ethan Allen Prep at The Golf Performance Center is committed to an individualized, passion driven learning environment in which student-athletes in grades 6-12 are challenged to maximize their learning through exhibiting proficiency in academic skills, high moral character, and a deep understanding of the academic content and topics in which they engage.
In light of the current pandemic, attendees will be required to:
1) Wear masks at all time when indoors
2) Maintain a 6 foot distance from others
3) Undergo temperature checks every morning