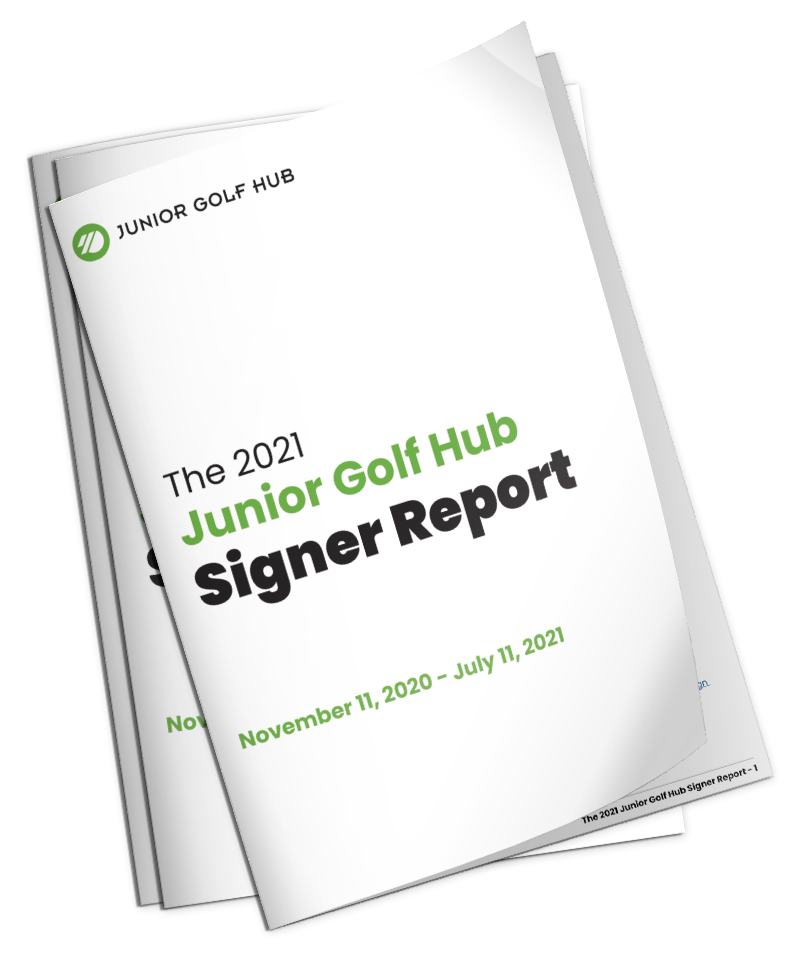 JUNIOR GOLF HUB'S 2021 SIGNER REPORT
Think You Know What it Takes to Play College Golf?
Junior Golf Hub Debunks Common Myths With New Groundbreaking Analysis of Over 900 Junior Golfers Who Got Signed in 2021
What's Inside: 
Signer Demographics
Scoring Average of Signers
Course Difficulty of Signers
Signers Scoring Progress Throughout High School
What does it really take to play D-I golf?
Signer divisional studies: the best, worst, and everything in between
Signer Case Studies
Signers vs. Non-signers compare and contrast
For the full report and access to an extended database of materials to fully equip college golf hopefuls, sign up for a Junior Golf Hub membership here.
From day one, our team at the Junior Golf Hub has set out to educate, simplify and clarify the realities of what it takes for junior golfers to reach their goal of competing at the collegiate level. Day after day, we are seeing an increasing number of players and parents who have their eyes open to the rich and diverse playing opportunities available at nearly 2200 college programs. With access to educational materials, tools to search and filter through information about college golf programs to find the perfect fit and the ability to connect directly with coaches, the Hub shows playing college golf is attainable for nearly any player that's willing to work for it!
We are pleased to release The 2021 Junior Golf Hub College Golf Signer Report, a first of its kind study that analyzes the historical tournament data of more than 900 junior golfers who signed a National Letter of Intent (NLI) in 2021. The golfers included signed to play collegiate golf across 524 programs, including men's and women's NCAA Division I, II, III, NAIA and NJCAA. The Study mixes visual graphics, statistical breakdowns and deep analysis to paint a complete picture of the 2021 class of signees.